The Warby Parker virtual try on feature uses your iPhone's camera to place an image of each frame onto your face. It then measures your face and determines the best frame size for you. This allows customers to get an idea of how different frames will look on their face before purchasing them.
How the Warby Parker Virtual Try On Feature Works
The Warby Parker virtual try on feature works similarly to the filters available on Snapchat and TikTok. 
It uses your phone's camera to superimpose the frames of your choice onto your face. 
This feature on the Warby Parker app is only available for iPhone users. Warby Parker has yet to release a version compatible with Android.
If you have an iPhone, you can follow these steps to "try on" Warby Parker frames virtually: 
Download the Warby Parker app from the App Store.
Browse through the "Shop" tab and find a pair of frames you like. 
Swipe down on the product page to begin the virtual try on.
Tap "Okay" to give the app access to your camera.
Confirm that you want to give the app camera access.
View the frames on your face.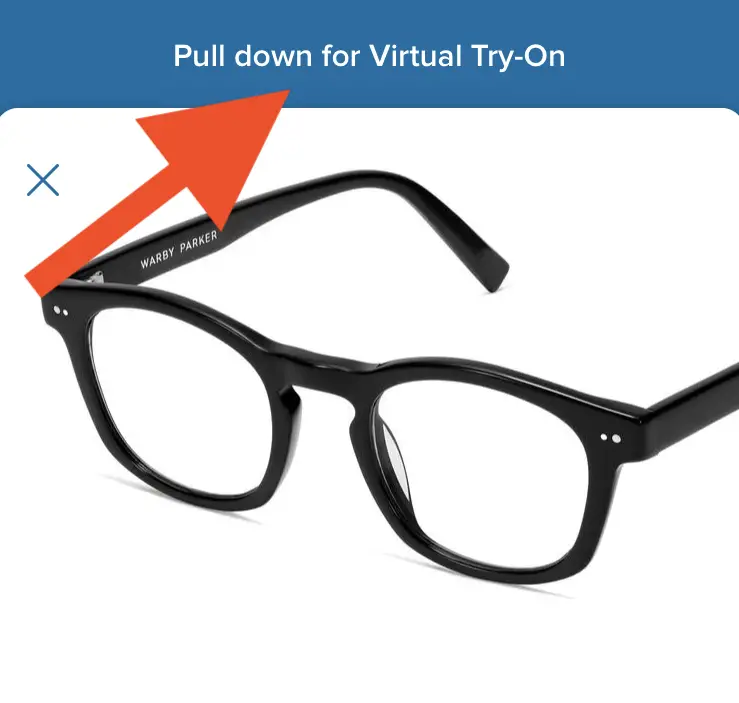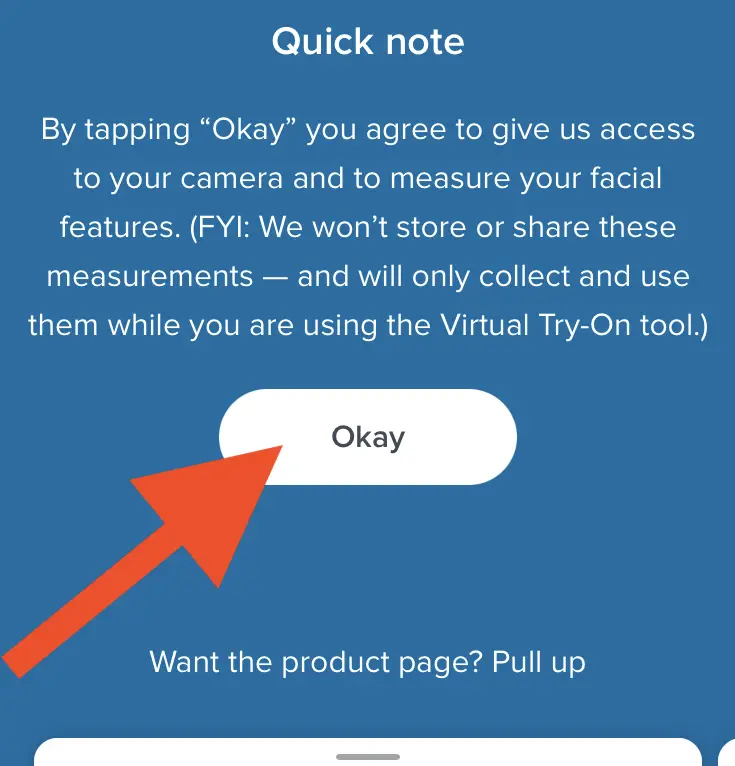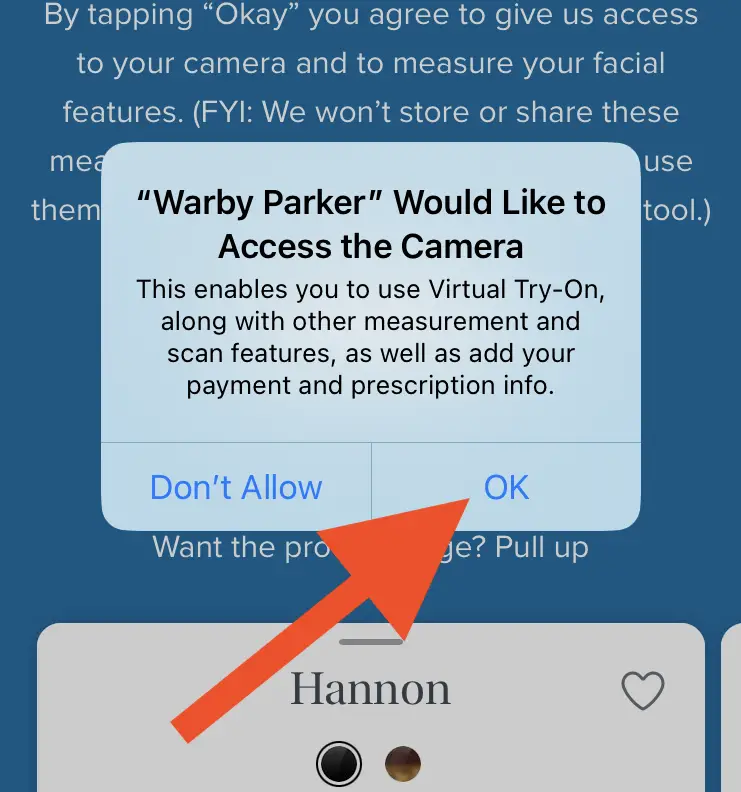 The app will measure your face and recommend a width for the frames you're trying on. If you want to try on a different color, tap the corresponding circle under the frame name. 
How Do I Save Frames I Like?
Warby Parker has an extensive collection of frames, and after trying on a few, it can be tough to remember which frames you liked.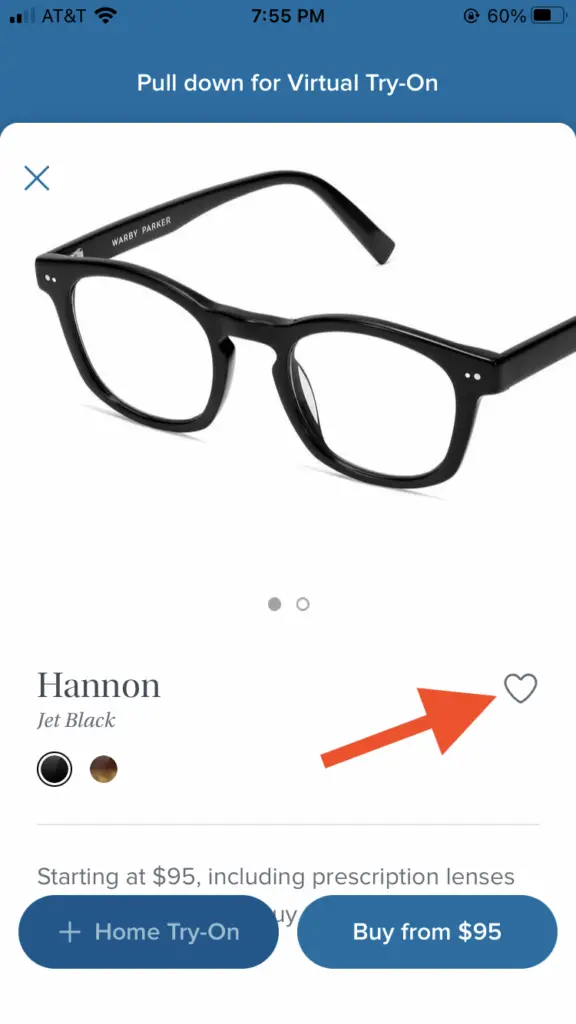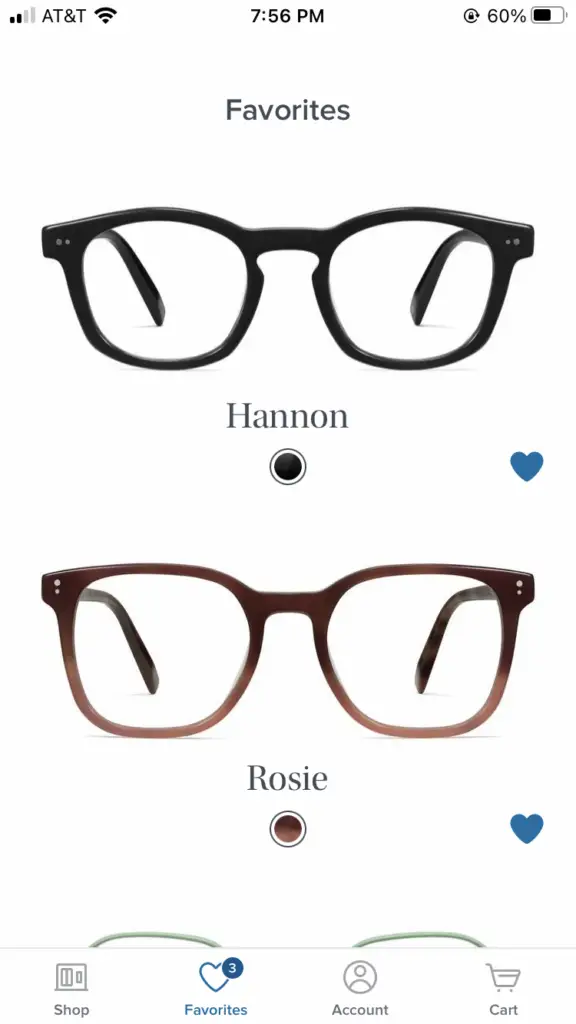 To save your favorite frames, tap the heart icon next to the frame name on the product page. If you want to see all your saved frames, press the "Favorites" tab at the bottom of the screen.
Is Warby Parker Virtual Try On Available for Android?
Currently, there is no way to use Warby Parker's Virtual try on feature on Android phones. 
If you want to try on Warby Parker's wide selection of frames instantly from home, ask a friend or family member with an iPhone if you can use the app on their phone.
How to Try Warby Parker Frames Without an iPhone
If you don't have, or know anyone who has, an iPhone but still want to try on Warby Parker frames, there are some other options. 
If you live near any of Warby Parker's retail locations, you can visit the store and try on as many frames as you'd like. Their helpful staff will even help you find the best frames.
If you'd prefer not to leave the comfort of your home to try on frames, Warby Parker also offers its famous home try on program for all customers residing in the United States. 
Warby Parker's home try on program allows potential customers to have five of their favorite Warby Parker frames sent to their home to try on, free of charge. When you are done trying on frames, send them back to Warby Parker and order your favorite pair online with your prescription.
If you are having trouble narrowing down your style preferences, Warby Parker offers a detailed style quiz. 
This quiz considers factors such as head shape, material, and color preferences to lead you to the best frames.
Home Try On vs. Virtual Try On: Pros & Cons
Both of Warby Parker's try on programs make selecting new frames efficient and fun. 
Here are the advantages and disadvantages of each program: 
| | | | |
| --- | --- | --- | --- |
| Pros of Home Try On | Cons of Home Try On | Pros of Virtual Try On | Cons of Virtual Try On |
| Customers can test the physical feel and fit of the frames. | Customers must wait for the glasses to be shipped to them.  | It's the most efficient method of trying on frames. | The pupillary distance tool is a bit glitchy. |
| It's the most accurate way to try on frames. | You can only try five frames at a time. | You can try as many styles as you'd like at one time.  | It's not available for Android phones. |
| It's completely free. | Not all frames are available for home try on. | Webby Award-winning technology. | Customers cannot assess the physical comfort and feel of glasses. |
Both of Warby Parker's free try on programs make it easy to choose the perfect frames for your face shape and style preferences.